How to build muscle at home?
Do you want to build muscle at home without any equipment? Madbarz has just a thing for you!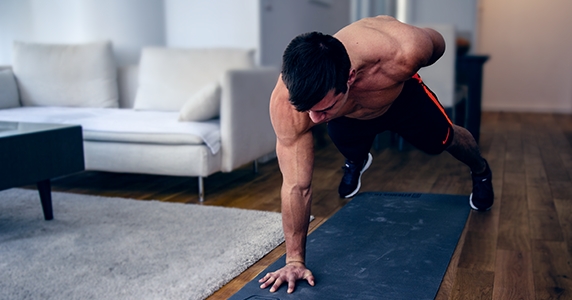 Free workout app
Download now
Do you know what is the most popular and effective Madbarz workout plan? Home Transformation is Madbarz's muscle building workout plan workout plan that requires no equipment, with workouts you can do in your living room.
In fact, this plan is so popular among Madbarz community, that Madbarz released the sequel to the Home Transformation plan. It's available with Madbarz Premium in the app, and it is designed to bring your home muscle building process to a whole new level.
Are you interested? Keep reading to find out more about building muscle at home with Madbarz.
Building muscle at home without equipment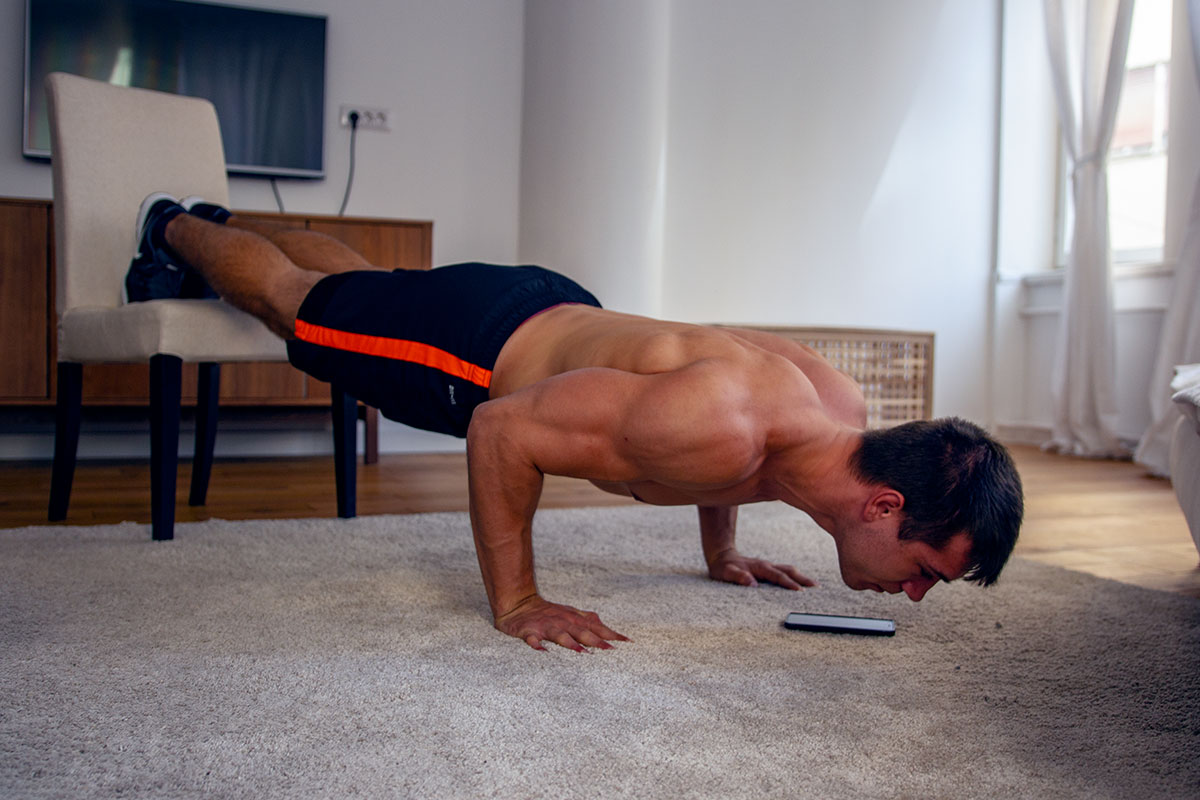 To build a strong and muscular body, you don't need a gym or weights. Despite popular belief, it's possible to build muscle at home, without equipment. Various Madbarz transformation stories prove this to be true, especially for those who decided to use the most popular Madbarz workout plan - Home Transformation.
When working to build muscle at home, it's important to have a thoroughly planned training schedule which will lead you to the various phases of the process. Besides this, it's important to choose exercises that will help you achieve muscle building. Creating such muscle building workout plan can be a difficult task for someone who is not a professional fitness trainer. This is why Madbarz has prepared Home Transformation 2, a workout plan created by professionals, which will help you achieve serious gains.
Madbarz brings you all the details about the new epic Madbarz Workout plan.
Bonus: a list of best bodyweight muscle building exercises.
The crown jewel of workout plans - Home Transformation 2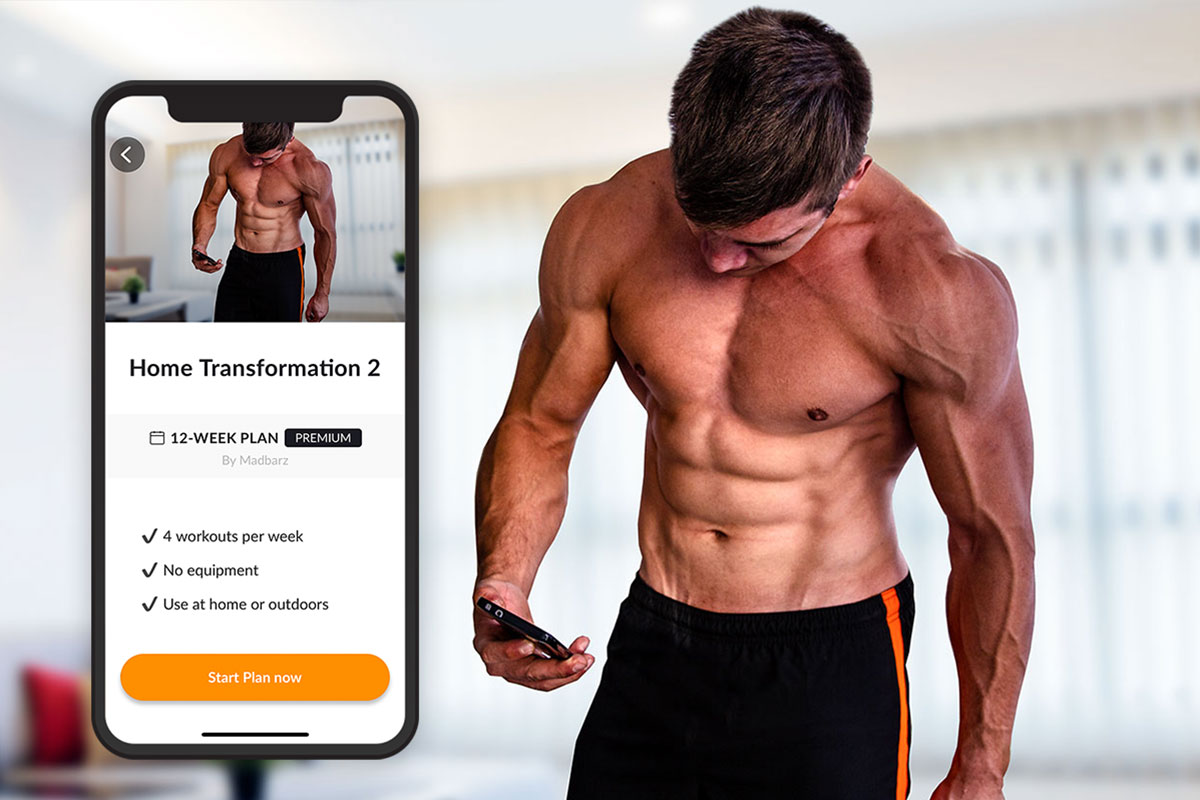 As all Madbarz plans, Home Transformation 1 & 2 are created by professionals, to ensure the best possible results.
Home Transformation is designed to help you build muscle, lose fat, and introduce you to the bodyweight training. Twelve weeks of the plan are separated into phases for gaining muscle and shredding fat. Extreme full body, upper body, and lower body challenges are featured as a part of this plan.
Home Transformation 2 takes this to a whole new level. This plan is focused on building muscle, as well as burning fat, but with extra intensity added. Do you want to build muscle at home, without equipment and paying expensive gym memberships? Madbarz has just a thing for you.
Even if you are completely new to bodyweight training, this plan is a great choice for you:
You don't need any equipment

Weekly workout schedules are a part of the plan

Workouts come with detailed descriptions and tips

Workouts are app-guided

Madbarz app tracks your progress throughout the plan

Exercise descriptions and video instructions are available if you are not sure how to do a certain exercise

Combine it with Madbarz Nutrition guide for the best results
As all Madbarz workout plans, Home Transformation 2 has three levels: beginner, intermediate, and advanced. All three levels last for 12 weeks and are designed to reach specific goals:
Beginner level
Challenging and dynamic workout plan.

Focused on activating all muscles, improving muscle mass and cardio, and getting rid of body fat.

A great choice for beginners who are new in bodyweight and are ready to begin their transformation journey.

Training frequency is 3x a week, and the workouts are ranging from 20 to 30 minutes in duration.
Intermediate level
Short, dynamic, and sometimes intense workouts with various bodyweight exercises.

The main goal is to get you fit and lean.

Progressively added intensity, as well as various challenging workouts and exercises.

Will build upper and lower body muscle, lose fat, and increase your overall fitness level.

This plan is a perfect preparation for the advanced level of Home Transformation 2.

Training frequency is 4x a week, and the workouts are ranging from 20 to 40 minutes in duration.
Advanced level
Focused on developing upper chest, arms, shoulders, legs, and core muscles.

It incorporates dynamic workouts that increase your cardio level and burn off fat stores in your body.

There is a challenge or two at the end of every week. These challenges are designed to motivate you and showcase your progress.

Crown jewel of bodyweight training plans, and you truly are a master of the trade if you finish it.

Contains some of the most epic bodyweight workouts, such as wall assisted handstand hold, handstand push ups, plyo push ups, and assisted pistol squats.

Training frequency is 5x a week, and the workouts are ranging from 10 to 45 minutes in duration.
Best bodyweight muscle building exercises
There are some iconic bodyweight exercises you will find in every bodyweight workout plan. All of these exercises are a part of the Home Transformation 2 plan. Also, you can find all of these workouts in the Madbarz exercise library and use Madbarz workout creator to create your own custom made workout.
Push ups
The king of all bodyweight exercises, his majesty the push up. Push ups are a great chest exercise, and since they don't require any equipment, they are often mentioned as a rival to the bench press. Many push up variations make sure everyone will find exercise suitable for their fitness level and goals.
Squats
Although a lot of bodyweight exercises are focused on developing a strong upper body, the lower body is a foundation upon which it is built. Squats are one of the most known leg bodyweight exercises, often compared to lunges in terms of which one is better. Squats offer a lot of variations, such as a basic squat, half squat, deep squat, jump squat, and sumo squat.
Bulgarian split squat
Bulgarian split squat is a unilateral (targets one side of the body) exercise in which one leg is placed on the elevated surface, such as bench, chair, or even TRX handle. It works your quadriceps, but also requires a lot of balance and control, which engages the core. Unilateral exercises are a great way to fight side-to side-muscle imbalances, so make sure to make them a part of your training.
The pistol squat is the bulgarian split squat progression and another unilateral exercise you can add to your routine once you master the bulgarian split squat.
V ups
V ups are a core exercise in which you lift the weight of both your arms and legs by using your abs and hip flexors. This exercise will help you strengthen your core, but also improve your balance, and protect your lower back. If you want to have abs of steel, v ups are a must in your routine.
Handstand push ups
The most epic push up variation you can find, this one is reserved for advanced athletes. Handstand push ups work triceps, shoulders, and chest, but also requires a great amount of balance and coordination. Additionally, they build muscle and look extremely cool.
Takeaway
There is just one thing you need to build muscle at home - new Madbarz workout plan, Home Transformation 2. In this plan, some of the most popular bodyweight muscle building exercises are incorporated in workouts and training schedules designed to fit your fitness level. It doesn't matter if you are new to bodyweight training or advanced in it - this plan will give you a proper challenge!
Are you interested? Get Madbarz Premium and start your transformation today!
Free workout app
Download now