Breakfast ideas you NEED to try for building muscle
If you are trying to build mucle, make sure to include these 5 simple breakfast recipes in your diet.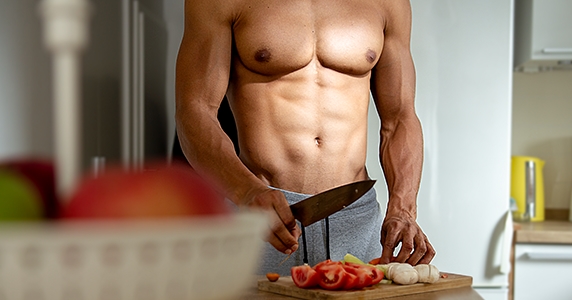 Free workout app
Download now
Most of the people wake up in the morning and rush to start their daily obligations. There isn't plenty of time to put together a nutritionally rich breakfast that will help you not only start your day the right way, but also help you build muscle.
Sure, the easiest solution is to reach for store-bought food, but we already know such food is not always as rich in nutrients as homemade breakfast can be. Also, buying pre-made healthy food is often really expensive.
When trying to build muscle, people mostly reach for eggs as their choice of breakfast. However, if you prefer to start your day with more fruity flavors, or spice up your breakfast routine a little bit, you may be confused about what to prepare. Luckily, you really don't need to spend a long time in the kitchen or have extreme cooking skills to make yourself a healthy tasty breakfast. There are some options you can prepare day earlier, or even keep a stash of ingredients in your workplace and mix it up during the break!
Protein oatmeal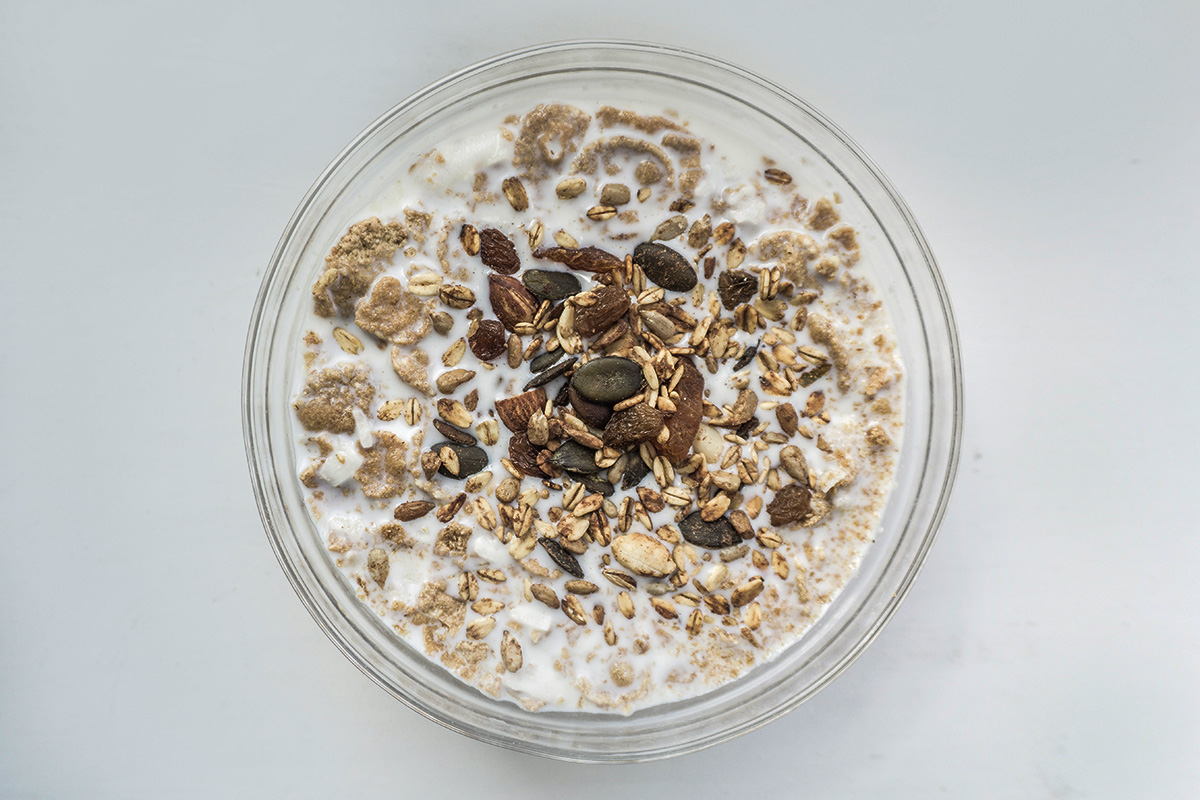 Servings: 1
Prep time: 5 minutes
This is a classic breakfast, but always worthy of mentioning. Oats contain more protein than any other grain, and the high fiber content will keep you full for a long time.
Options for preparing oats are practically endless - you can add any healthy ingredient that suits you the best. You can soak it overnight and have your breakfast ready in the morning. Also, you can mix all the dry ingredients together, keep it in a mason jar and cook when convenient. Create your own signature muscle building oatmeal blend. We recommend the following basis:
Ingredients
¾ cup milk of your choice (dairy or plant)
½ cup rolled oats
¼ cup protein powder of your choice
Topping (optional):
Cocoa powder, ground cinnamon
Nuts of your choice
Berries and fruit - dried, frozen or fresh
Chia seed, flax meal or hemp seeds
Peanut butter or almond butter
Mix different ingredients every morning and avoid boring breakfasts!
Cottage cheese with fruits
Servings: 1
Prep time: 5 minutes
It really doesn't get simpler than this. Even if you have zero cooking skills and very little time, you will be able to create this incredibly healthy and tasty breakfast. Cottage cheese has only 72 calories per 100 g. Additionally, it contains approximately 12 g of protein per 100 g. The protein it contains is casein, a slowly-digesting protein that boosts muscle growth.
All you need for this quick muscle building breakfast is (and this is a very short list):
Ingredients
1 cup cottage cheese
½ cup fruits (fresh or frozen)
¼ cup topping (optional):
Nuts of your choice
Seeds - flax meal, chia or pumpkin seeds
Mix it up together in a bowl or a mason jar and enjoy your muscle building breakfast! Simple as that!
Chocolate chia seed pudding

Servings: 1
Prep time: 5 minutes
Let's keep it simple for one more recipe. Chia seed gained popularity for their high amount of protein (17 g per 100 g) but also - they are packed with fiber (34 g per 100 g) and will keep you full for a long time.
Ingredients
1 cup milk of your choice (dairy or plant)
3 tablespoons chia seeds
2 heaped tablespoons protein powder (taste of your choice)
Topping (optional):
Nuts of your choice
Berries and fruit - dried, frozen or fresh
Directions
Whisk protein powder with milk
Add chia seeds and mix it up together
Put it in a mason jar or other container and leave it in a fridge overnight (or at least for 4 hours). It would be great if you can stir it for a couple of times during nex hour to create a consistent pudding
Add extras right away or in the morning, whichever you prefer - either way, you will have a quick and tasty breakfast!
Quinoa porridge

Servings: 2
Prep time: 20 minutes
In case you are bored with oatmeal, or just want to try something different, we have the right thing for you. Often referred to as a superfood, since it's rich with nutrients, quinoa (cooked) contains 4,5g of protein per 100g. The protein found in quinoa is considered to be comparable to casein, high-quality protein from dairy products. Clearly, quinoa is a great plant-based source of protein you should consider adding to your food list!
Before we start, learn how to prepare quinoa the right way! Always rinse quinoa in cold water before cooking, it helps to remove the natural bitterness of quinoa. Ideally, cover it with cold water rub it gently between your palms for a minute or two and then rinse it. Pro tip: never soak quinoa. The bitterness of the quinoa comes from the saponins it contains, and soaking can result in saponins leaching into the seeds!
Make yourself some tasty quinoa breakfast!
Ingredients
2 cups milk of your choice (dairy or plant)
1 cup quinoa
Pinch of salt
2 tablespoons (approximately) sweetener of your choice - coconut sugar, honey or maple syrup
½ teaspoon cinnamon
½ teaspoon vanilla extract
Topping:
1 chopped apple
¼ cup nuts of your choice
Directions
Cook the milk on medium heat, stir periodically, until it begins to simmer. Add quinoa and a pinch of salt. Stir regularly until it comes to a gentle boil. If needed, turn the heat down and let quinoa cook in a low simmer for 10-15 minutes, until quinoa is soft and most of the liquid absorbed.
Remove from heat, add sweetener, cinnamon, and vanilla extract. Mix it up together.
Divide into two servings and add toppings - weather recommended ones or any other you like!
Protein muffins with greek yogurt

Servings: 4-6
Prep time: 15 minutes
Baking time: 20 minutes
Okay, these are not as easily made as the recipes before but keep in mind there is more than one breakfast portion here. Once you get a hold of it, you will be able to mix up these muffins pretty fast, don't worry! Pack portions in reusable plastic bags with zipper and keep it in your fridge, they can last for 5-6 days that way.
Pack 2-3 muffins with some greek yogurt and you get a tasty breakfast packed with proteins and nutrients!
Ingredients
½ cup of coconut oil (melted, but cooled)
3 eggs
2 large ripe bananas
Two tablespoons of protein powder of your choice
¾ cups of wheat flour (or gluten-free substitute)
2 teaspoons (approximately 7g) of baking powder
½ cup of chopped or ground almonds
Milk of your choice or water (if needed)
Extras (optional):
Raspberries or blueberries (fresh or frozen)

Chocolate chips

Raisins (or all of the above)
Directions
Preheat oven to 180°C (356°F)
Mix all dry ingredients together (flour, protein powder, baking powder, ground almonds). If you are adding chocolate chips or raisins, you can mix them with dry ingredients. If you are adding raspberries or blueberries, add them last.
Mash bananas with a fork.
In a separate bowl, mix the wet ingredients. First, whisk the eggs, and then add mashed bananas and melted coconut oil. Whisk until well-combined.
Add dry ingredients to the wet ingredients and stir until well-combined.
Different protein powders can have different absorbing effects. If the mixture is too dry, add a little bit of milk or water until you get the consistency of classic muffin mix. Add one by one tablespoon to avoid adding too much.
Add raspberries or blueberries if you wish.
Fill ¾ of muffin paper cups with the mix, there should be around 12 muffins
Bake for 20 minutes, let it cool and try not to eat all in one sitting!
Takeaway
Nutrition is the most important part of any transformation process. What we eat keeps us not only fit from the outside but also healthy from the inside. These breakfast ideas serve to show you can enjoy food and still stay healthy. Don't be afraid to experiment with ingredients - create your own recipes and enjoy the beginning of your day.
However, there is more than one meal of the day. If you are looking for more inspiration on what to eat to stay healthy and build muscle, Madbarz Premium comes with the nutrition section that provides you with a variety of ideas for every meal of the day (including the deserts). Get your Madbarz Premium here and eat tasty and healthy!
Free workout app
Download now