Get Ripped with HIIT training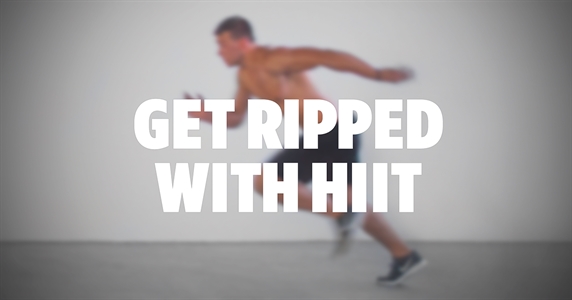 Free workout app
Download now
Are you trying to shred the excess fat so that your abs can finally start showing? If you are ready to accelerate your pace, burn the fat, improve your speed and endurance, HIIT training is for you.
WHAT IS HIIT?
High-intensity interval training (HIIT) is a form of training in which you alternate between periods of high intensity bursts and periods of low intensity exercise. One training usually lasts from 10 to 30 minutes and it keeps your body from adapting to a certain exercise while your calories burn like crazy.
The key element of HIIT is that the high intensity burst periods need to involve the maximum effort, meaning that your intensity should be 10/10.
WHY IS HIIT SO GOOD?
It's efficient
Research has showed that you can achieve a better progress and burn more calories with just 15 minutes of HIIT training than, for example, jogging for a whole hour.
It burns fat
HIIT, when done properly, burns more calories than a steady cardio workout which causes you to shred the excess fat while you don't lose any of your hard earned muscle mass.
You don't need equipment
That's awesome, right? You can do it anytime and anywhere. Exercises like high knees, jumping jacks, jumping lunges, burpees etc. are prime examples. And if you feel like it, you can go running outside.
It boosts your metabolism
HIIT increases your metabolism which enables your body to burn fat even after your workout is done. HIIT triggers the Excess Post Exercise Oxygen Consumption (EPOC) which makes you burn calories for hours after your workout, even if you're just sitting and watching TV.
---
Workout plans for building muscle at home without equipment are available in the Madbarz Premium.
---
WHO IS HIIT FOR?

Let's make one thing clear before we continue: HIIT is not for you if you are new to physical activity or have cardiovascular problems. If you're in a terrible shape HIIT will be too much for you to handle. HIIT is meant for those that are in good health and shape. If you want to try out HIIT, we suggest that you first try to build a steady basic level of fitness and activity.
---
Madbarz's training system combines HIIT training and muscle intensive workouts - get ripped with the app for iOS and Android.
---
HOW TO HIIT IT?
Start off with a short 3-5 minute warm-up session and then do an intense 20-30 second exercise. Maximize your efforts, push yourself – it's only 20-30 seconds! After that continue with a slow to moderate pace lasting from 30-60 seconds that will allow you to recover for the next round. Repeat this until you're done with your workout and don't forget to cool down after you are done! When cooling down keep in mind not to lower your head below the heart level since you're heart rate will be high.
Note: Do no more than 3 HIIT trainings per week, and remember to rest! High intensity training can be hard on your stomach so make sure to avoid heavy meals and drink plenty of water several hours prior to your training session.
Free workout app
Download now