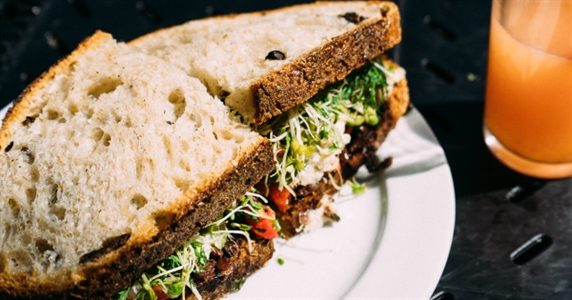 4 Nutrition Rules To Boost Muscle Building Post Workout
Have you ever heard the expression – train insane or remain the same? Well, technically, you could be training insane AND remaining the same if you pay no attention to your post workout meals.
The basics can take you a long way. So check out what are the simple rules of post workout nutrition for muscle building.
1. REFILL MUSCLES WITH CARBS

If your workout was high intensity, you should aim to restore the glycogen in your muscles as soon as possible. Aim to eat 1 – 1.2 g of carbs per kg of bodyweight after workout.

Adjust the amounts depending on the intensity of your workouts, but don't skip them!
Each contains about 70g of carbs:
2 large bananas
2 medium sized baked potatoes
4 slices of whole wheat bread
1.5 cups of cooked brown rice
How does it work? Carbohydrates raise your insulin and help drive glycogen into empty stores of your muscles. So if you are trying to build muscle, any choice of carbohydrate source is better than none.

2. REPAIR MUSCLES WITH PROTEIN
To ensure muscle building, aim for 20 – 30 g of high quality protein in your post workout meal. Muscle tissue gets torn during workout. The goal is to replace weak, torn muscle fibres with stronger ones and change the muscle composition.
Each contains more than 20 g of high quality protein:
4 boiled eggs
2 cups of yoghurt
1 standard chicken breast without skin
1 medium sized can of tuna
How does it work? To support the protein synthesis you need essential amino acids that can't be produced by the body and are found in high quality protein sources. They can't be stored for later so it's important to consume them regularly after each workout.
3. EAT AS SOON AS POSSIBLE
Try not to wait longer than 30 – 60 min with your first meal after workout. If you want to boost muscle building, you should supply the right nutrients to your blood flow and send them on the way to muscles when they need it the most.
Tip: Take something with you everywhere you go and get used to eating in weird places from all kinds of small plastic boxes.
How does it work? While your body can manage to recover normally if you eat later as well, you won't be using the perfect time to boost the processes that will bring you to the desired goal.
---
Need ideas for healthy snacks? Get the Nutrition Guide with 65+ easy recipes and eating tips that will transform your body. The in-app version of the Nutrition Guide is available in the Madbarz Premium, along with home workout plans!

---
4. AVOID FATTY FOODS POST WORKOUT

Fat is essential in your daily nutrient intake, but try to avoid it right after your workouts to ensure quicker muscle recovery. Watch out not to choose fatty foods and don't add fat to your post workout meals.
Tip: Don't stress too much over it. Stress works against your muscle building, too.

How does it work? Fat in your post workout meals can slow down the boost you are trying to achieve by slowing down the rate that your food passes through the stomach, and additionally affects the absorption of the consumed proteins and carbohydrates.